The Trade and Industry Bank of Mongolia (later The Bank of Mongolia) was established as a Mongolian and former Soviet Union joint venture. The initial capital of the Bank was 260000 yanchaan (former legal medium of exchange) and 22 staff constituted the bank in total, with 18 former Soviet officers and 4 Mongolian officers. This was a highlighting event as it was also foundation of the Bank of Mongolia. The main functions of the Bank of Mongolia were circulating the Mongolian national currency, Togrog, financing trade activities, regulation of supply and prices of products, issuance of loans to business entities due to monetary reform in 1920. Mongolian officers constituted only 20 percent of staff at this time.
V.I.Komar, D.I.Mikilman, N.I.Doichman, S. Dovchin, Yu. Tsedenbal and T. Baldan were Governors of the Mongolian Trade and Industry Bank of Mongolia (the Bank of Mongolia) in 1924-1955.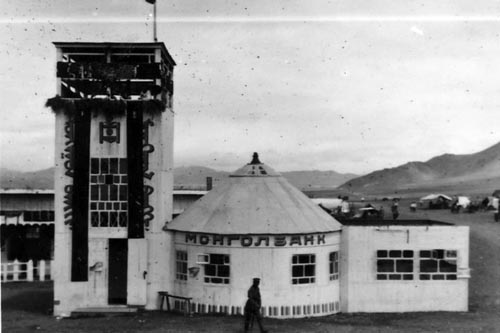 In 1950s, the structure of the Bank of Mongolia was expanded, local branches were established, national staff was trained by the assistance of former Soviet officers and they constituted 98 percent of staff. In 1954, the former Soviet Union transferred its own share of stocks in the Bank of Mongolia to the State of Mongolia and the Bank of Mongolia was renamed as the State Bank of Mongolia.
In 1955-1991, G. Baljid, L. Lkhamsuren, P. Tumur, D. Danzan and G. Khuderchuluun headed the Bank and around 400 banking and financial leaders were born within this period.
Political, social and economic reforms were introduced and Bank Charter Act and Law of Mongolia on banking were enacted and henceforth, two-level banking system was founded in 1991.
31 commercial banks were there upon established, however, they were reduced to 17 for reasons of defaults, failure to meet initial capital stock requirement, merging, and liquidation.
N.Jargalsaikhan, D.Molomjamts, J.Unenbat, O.Chuluunbat, A. Batsukh and L. Purevdorj were accountable for bringing the two-level banking system into effect as Governors of the Bank of Mongolia in 1991-2012. They centered on overseeing the banking sector stability, monitoring money supply, maintaining the value of Togrog, decreasing inflation rate, enhancing economic growth.
Since 2012, N.Zoljargal has been assigned as the Governor of the Bank of Mongolia.
As of 2016, 14 banks and 1386 branches are running their operations in all the administrative units, both cities and local areas of Mongolia and 13,564 employees provide banking services to business entities, organizations and individuals.
Timeline of key events (The Bank of Mongolia)
1260 - The world's first banknotes were issued in our country upon establishment of the Great Yuan Dynasty

1924 - Mongolian and former Soviet joint venture, The Trade and Industry Bank of Mongolia (The Bank of Mongolia) was founded

1925 - Togrog was created as the national currency

1926 - The first silver coin was released into circulation

1931 - The first long-term loans were issued

1940 - The Bank of Mongolia began to act as Government's fiscal intermediary

1946 - Loan collaterals were introduced

1954 - The Trade and Industry Bank of Mongolia was re-established as the State Bank of Mongolia when the former Soviet Union transferred its own shares of stock to the State of Mongolia.

1963 - Multi-party payment and settlement system was introduced

1991 - The law of Mongolia on banking was enacted

1992 - Inter-bank payment and settlement system was introduced

1993 - The Bank of Mongolia enacted the first Banking sector supervision act

1994 - Accounting system reform was introduced

1996 - Ard bank and Daatgal bank were liquidated due to the banking sector crisis in 1993

2001 - Minimum capital requirement was reduced from "4 billion Togrogs" to "1 billion" Togrogs.

2002 - The law of Mongolia on non-banking financial institutions was enacted

2002 - The law of Mongolia on the securities market was enacted

2006 - The law of Mongolia on Anti-Money Laundering/Combating the Financing of Terrorism was enacted

2008 - The law of Mongolia on credit guarantee was enacted

2009 - The law of Mongolia on real state collateral was enacted

2011 - The law of Mongolia on Development bank was enacted

2011 - The minimum equity fund requirement was set to be 16 billion Togrogs

2012 - The law of Mongolia on deposit insurance was enacted

2012 - Memorandum of understanding of "Midterm price stabilization program" between the Mongolian government and the Bank of Mongolia was signed

2013 - The Law of Mongolia on credit guarantee was enacted

2014 - The June 02nd was declared as banking professionals' day upon the Mongolian Government resolution 121

2015 - The minimum capital requirement for Mongolian banks was reduced from 50 billion Togrogs to 16 billion Togrogs