According to the decision of the Ministry of Finance, the primary auction of government securities has not been announced publicly since November 2017.
To improve the government's financial management and improve monetary policy tools, the government issued and traded government securities on the primary market through the Bank of Mongolia since October 2012. Government securities are the risk free investment instrument in the financial market and have the advantage of interest earned to be exempt from tax. Therefore, the regular trading of government securities supports the development of the financial market in many ways by setting the risk-free interest rate standard in the financial market by forming the yield curve, determining the impact of short-term interest on long-term interest, and increasing the activity of the financial market.
From 2012 to 2017, government securities trading through the Bank of Mongolia was organized according to the following scheme.
Scheme 1. Government securities trading scheme through the Bank of Mongolia /2012-2017/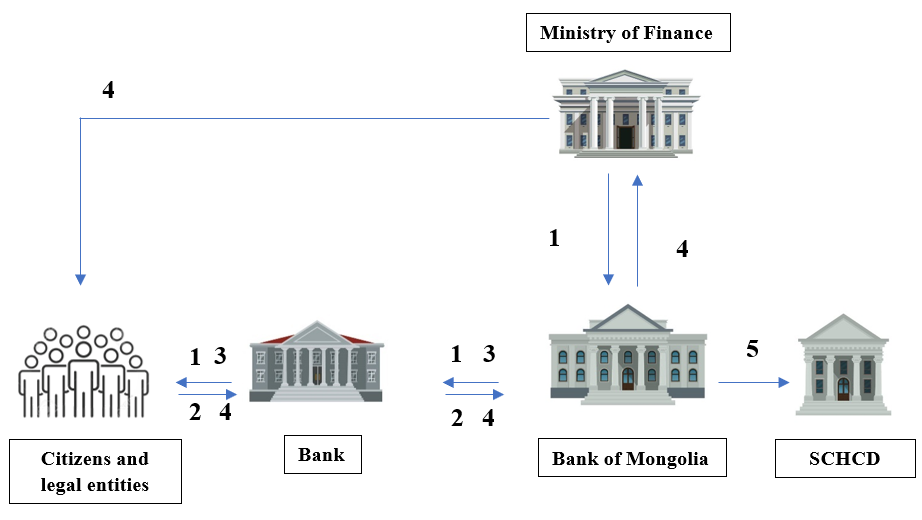 Government securities trading scheme
The Ministry of Finance will announce the announcement of trading of government securities through the Bank of Mongolia;
Citizens and legal entities interested in purchasing government securities must submit their proposal through a commercial bank to the Bank of Mongolia;
The Bank of Mongolia and the Ministry of Finance will report the results of government securities trading;
Transfer payment of government securities;
Securities clearing house and central depository will maintain the register of holders of government securities.
The public issuance of government securities in the primary market was suspended indefinitely in November 2017 and since then only the secondary market trading of government securities has been conducted between banks.
"Regulations on the operation of primary and secondary market of domestic government securities" were approved by the Annex of Government Resolution No. 77 of 2019, and this regulation regulates relations arising in connection with the issuance and trading of domestic government securities. Click here to access this regulation.